Virtue RF® is a skin rejuvenation treatment that uses a combination of microneedling and radiofrequency (RF) energy to stimulate collagen and elastin production, and therefore tightening the skin. It provides both epidermal resurfacing and deeper dermal remodeling and can be used on your face, neck, decolletage, hands, or body.
Areas of focus
FACE & NECK
TREATMENT FOR:
FINE LINES & WRINKLES
ACNE SCARS
UNEVEN SKIN TONE
IRREGULAR SKIN TEXTURE
SKIN LAXITY
SAGGING JOWLS
BODY
TREATMENT FOR:
STRETCH MARKS
SKIN LAXITY (ARMS, ABS,
KNEES & ELBOWS)
SCARRING
ADVANTAGES
NO DOWNTIME
NON-SURGICAL
LONG-LASTING
QUICK & CONVENIENT
MAYBE COMBINED
WITH OTHER TREATMENTS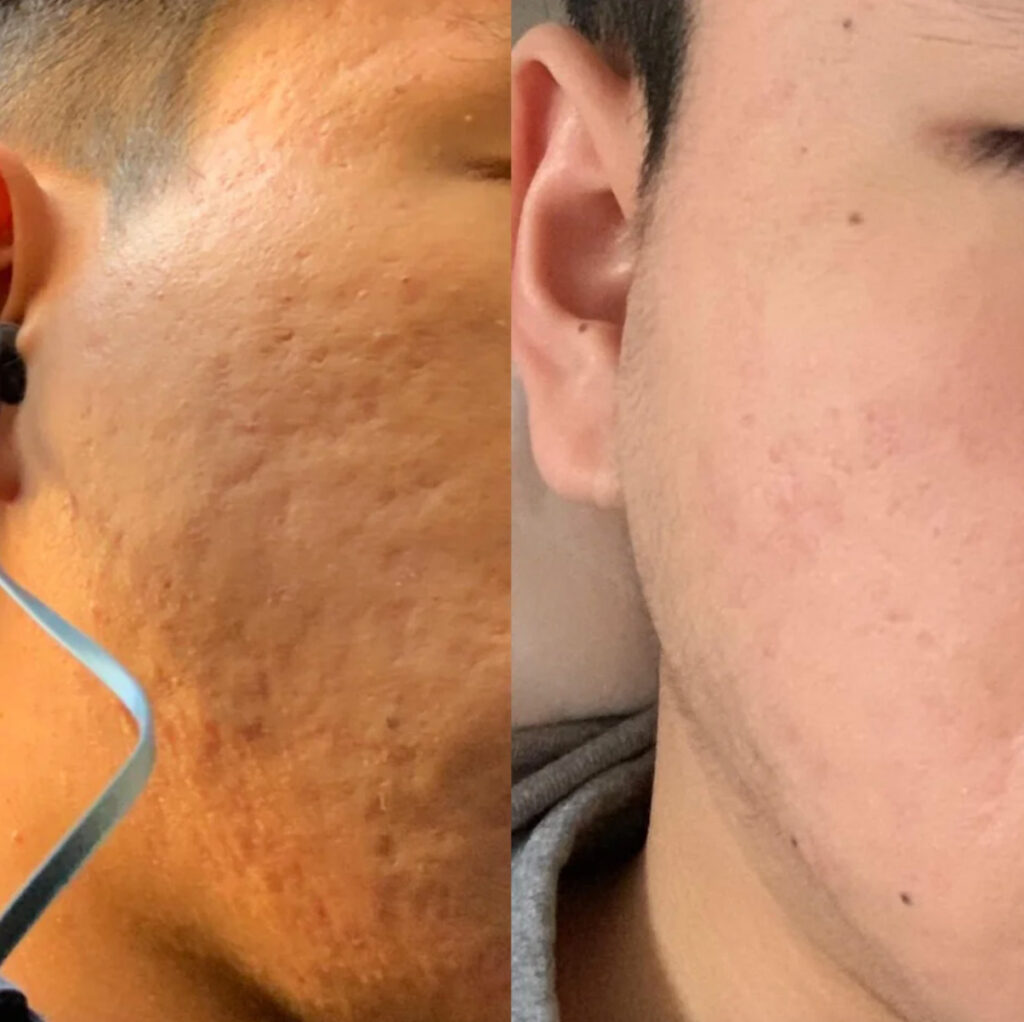 WHO IS A GOOD CANDIDATE?
Virtue RF is a truly ageless procedure. It is used as a preventative and a corrective treatment for patients with light to dark skin types. It is particularly effective at smoothing fine lines and wrinkles, firming, tightening, and toning the skin. VirtueRF can also be used to soften the appearance of scars such as those from acne or stretch marks. It is important to talk to your provider about any concerns you might have before your Virtue RF treatment.
HOW DOES MICRO NEEDLING WORK?
Microneedling works by applying sterile microneedles deep into the dermis of the skin. These needles create microscopic channels deep within the dermis to stimulate the natural production of collagen and deliver radio-frequency heat energy at the desired depths to promote remodeling of collagen and elastin that tightens and lifts the skin.
WHAT WILL MY FACE LOOK LIKE AFTER MY TREATMENT?
One of the key benefits of a Virtue treatment is that there is no social downtime. The skin may appear red for a few hours but the exclusive post-care regimen works to soothe the skin so most will only notice a post-treatment tightening and glow to their skin. Your provider may recommend no make-up for 24hrs and of course, it's always important to use sun protection.
HOW MANY TREATMENTS ARE NEEDED?
Most providers will recommend a series of three to four treatments, spaced 4 to 6 weeks apart. To maintain results, a treatment every six months to a year is recommended.
WHEN CAN I EXPECT TO SEE RESULTS?
A benefit of RF Microneedling is that the collagen you build is your own so results are natural and will continue to improve with time. It can take up to 4-6 weeks until some benefits are apparent with full results taking 3-6 months after your last session.